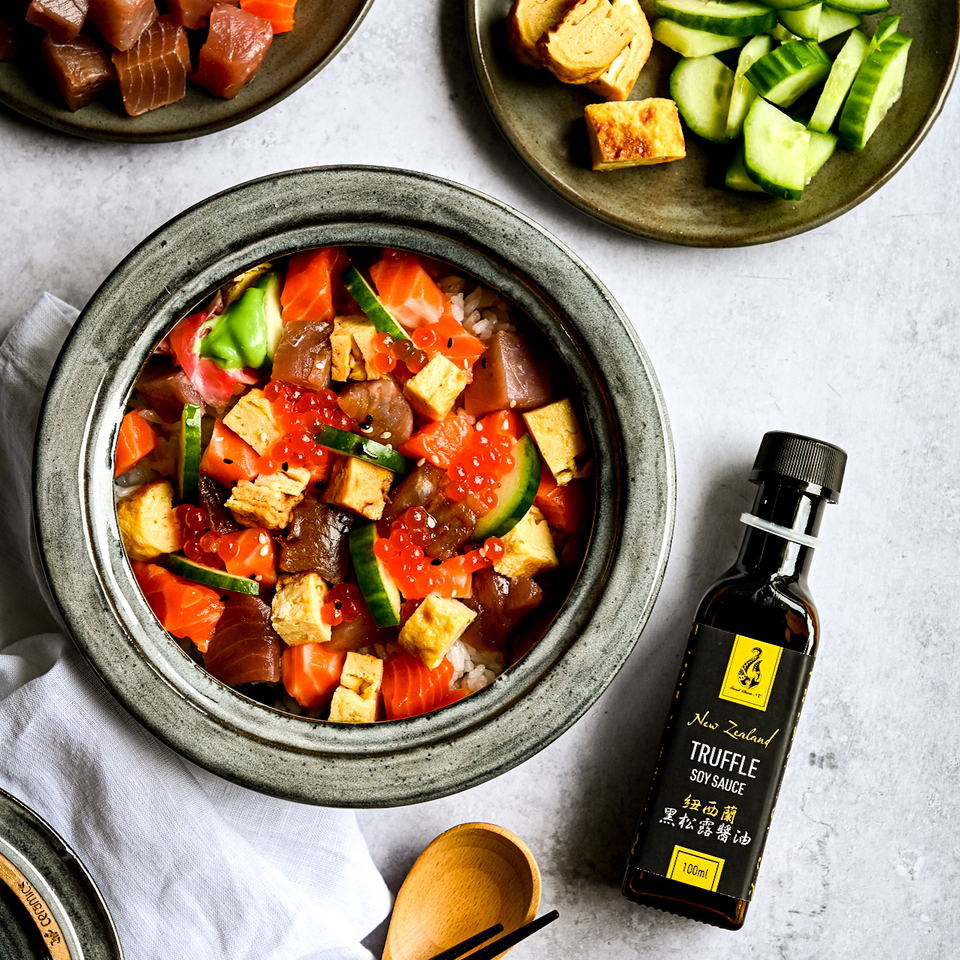 Chirashi Sushi Bowl
by Michelle Tsang
Ingredients:
2 cups sushi rice
2 1/4 cups water
3 Tbsp rice vinegar
2 Tbsp sugar
1 tsp salt
Fresh sashimi grade fish (such as Salmon, Tuna, and Trevally), cubed
4 eggs
1 dashi stock powder packet
1/2 cucumber, sliced
2 - 3 Tbsp Salmon Caviar
1 Tbsp of sesame seeds
Good Chow's NZ Truffle Soy sauce
wasabi

Method:

1. Rinse and drain sushi rice twice. Add rice and water to a pot and bring to a boil over high heat. Cover the pot and reduce heat to low. Simmer for 12 minutes and then turn off the heat. Leave the lid on for 10 minutes, undisturbed.

2. While the rice is cooking, mix the rice vinegar, sugar, and salt in a small bowl until the sugar has dissolved.

3. Once the rice is cooked, transfer to a large bowl and gently combine vinegar mixture, and let cool to room temperature.

4. Whisk eggs and dashi powder in a small bowl. Heat 1 tsp oil in a small pan and pour a thin layer of egg in. Once the bottom is set and the top is slightly runny, use the spatula to fold the egg over itself to form a long rectangle.
Push the rectangle of egg to one end of the pan, and then pour another thin layer of egg mixture into the pan, making sure to pour it underneath and around the rectangle of egg.
When the new layer of egg is almost set, roll the rectangle of egg onto the new layer. Repeat with remaining egg mixture and set egg rectangle aside to cool. Slice into small cubes.

5. To assemble the bowls, divide the rice among four bowls. Arrange the sashimi, cucumber, egg roll and salmon caviar on top of the rice.

5. Sprinkle with sesame seeds and serve with Truffle Soy sauce and wasabi.