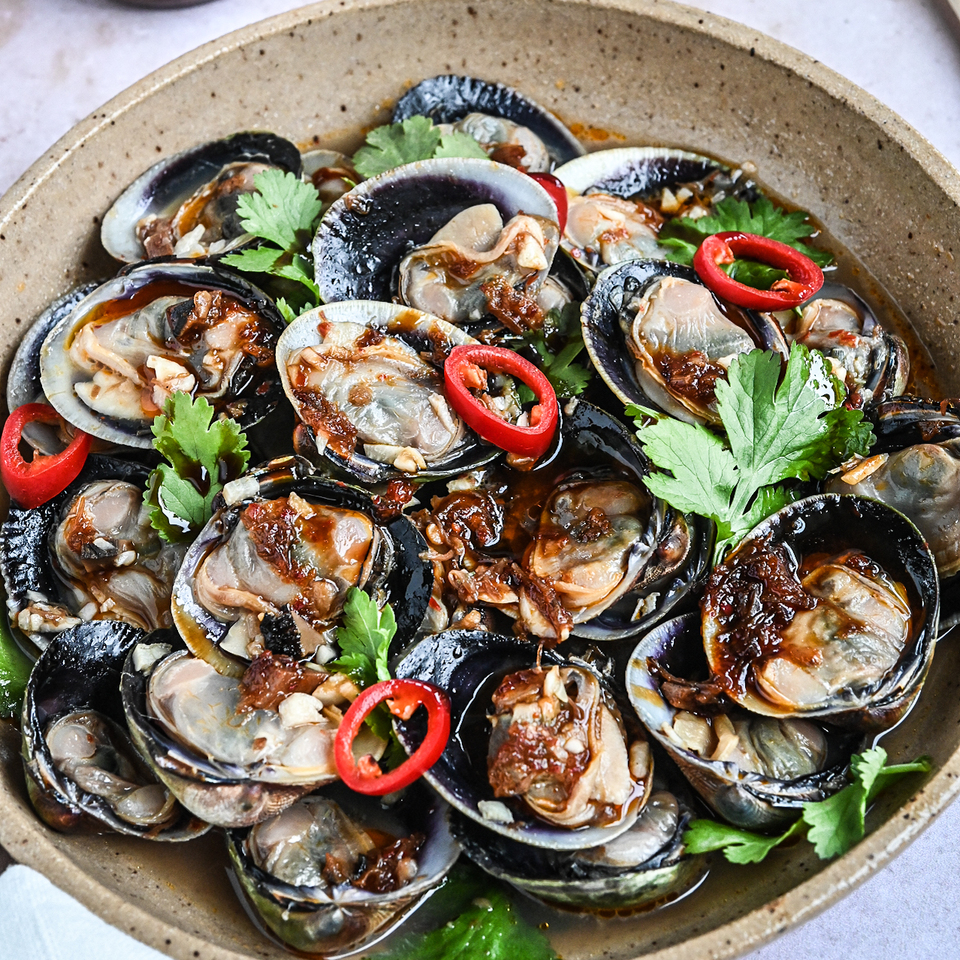 Southern clams
From sub-Tropical to sub-Antarctic oceanographic waters, our New Zealand kaimoana is bountiful and I like cooking them Cantonese style to bring out their sweetness. XO Clams is a classic Hong Kong dish with spice, sweetness and umami flavours all in one. I've used Good Chow's XO Paua sauce and Everything Sauce, plus some garlic, ginger and chinese wine to let the fresh Southern Clams shine. Normally I would have to further season the dish but the Everything Sauce is perfectly savoury and sweet-balanced so it makes the recipe super simple and easy to make.
Ingredients:
1kg Southern Clams, washed and purged
3cm piece of ginger, sliced
1 spring onion, cut in lengths
2 tbsp Good Chow XO Blackfoot Paua Sauce
2 tbsp Good Chow Everything sauce
Method:
1. Fill a large bowl with 1.5 litres of cold tap water. Sprinkle in 45g salt (this creates a 3% salt solution like sea water).
2. Add clams and let soak for 30 minutes. Discard purging water which likely has sand in it. Repeat the purging process once more.
3. Discard any clams that remain open and refuse to close when tapped.
1. In a large skillet or wok, heat pan over medium heat - it is hot enough and ready when water droplets dance around the pan.
2. Add a drizzle of vegetable oil and it should immediately shimmer. Add garlic, ginger and spring onions, cook for 1-2 minutes until aromatics are lightly golden and fragrant.
3. Add clams, Shaoxing wine, XO sauce and Everything Sauce, cover, and let clams cook for a few minutes. Continuously check for any opened clams (this is where a glass lid is handy) and transfer to a large serving bowl, until all clams have opened, about 5 minutes.
4. Check the remaining cooking sauce for saltiness and add a few tablespoons of water to adjust to taste.
5. Pour sauce over the cooked clams, and then garnish with red chilli slices and coriander leaves. Serve immediately.